At last the secret is out! We can finally reveal that after months of discussions and collaborations with 4AD in UK and the Marc Jacobs fashion brand in LA, the launch of a Fall 2022 capsule collection for Heaven by Marc Jacobs is released, with imagery directly influenced from the iconic Cocteau Twins Heaven or Las Vegas album artwork that Form partner Paul created back in 1990. 
This gave us the chance to take a long-awaited deep dive into Paul's extensive archive of his original artworks, proofs, pre-digital hand-created logos and album mock-ups, photography created in partnership with Andy Rumball, and visuals never before seen in public – many of which will be on show at an exhibition of Paul's work, running from 11 November to 11 December 2022. This exhibition dedicated to Heaven or Las Vegas, at the Heaven Fairfax store in Los Angeles, coincides with the fashion range launch.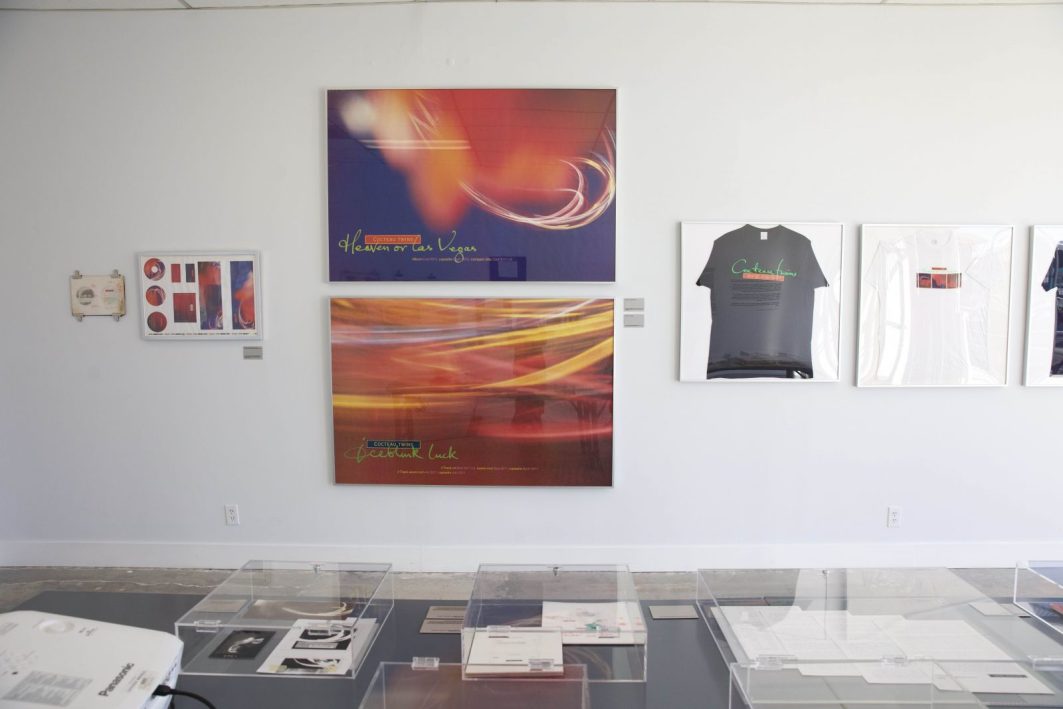 Cocteau Twins are the trio of Elizabeth Fraser, Robin Guthrie, and Simon Raymonde whose sixth studio album, Heaven or Las Vegas, is widely regarded as one of the decade's finest. Featuring 'Cherry Coloured Funk,' 'Iceblink Luck' and the album's title track, this ethereal masterpiece has influenced countless artists since its release and continues to bewitch new fans every day, soundtracking many a life moment. A timeless and unique record, Pitchfork said of it in a rare full marks retrospective review, "pop (music) rarely sounds as transformative and as transfixing as it does here."
The Heaven limited range – the first of its kind with this band and record – celebrates the album's enduring appeal and the explosive colour and energy of it's classic sleeve design. 
Although we at Form are gutted we can't be at the exhibition, it's been an enjoyable and memorable experience compiling these visuals and we'll leave you with a selection of (the many) images from the HoLV archive with comments you might find useful to read alongside.
You can follow the incredible press the exhibition and the fashion collection has received on Pitchfork, Nylon, W Magazine, Far Out, NME, 4AD, Stereogum and Brookyln Vegan, and more images can be seen in the forthcoming weeks on Form's Instagram and Facebook pages.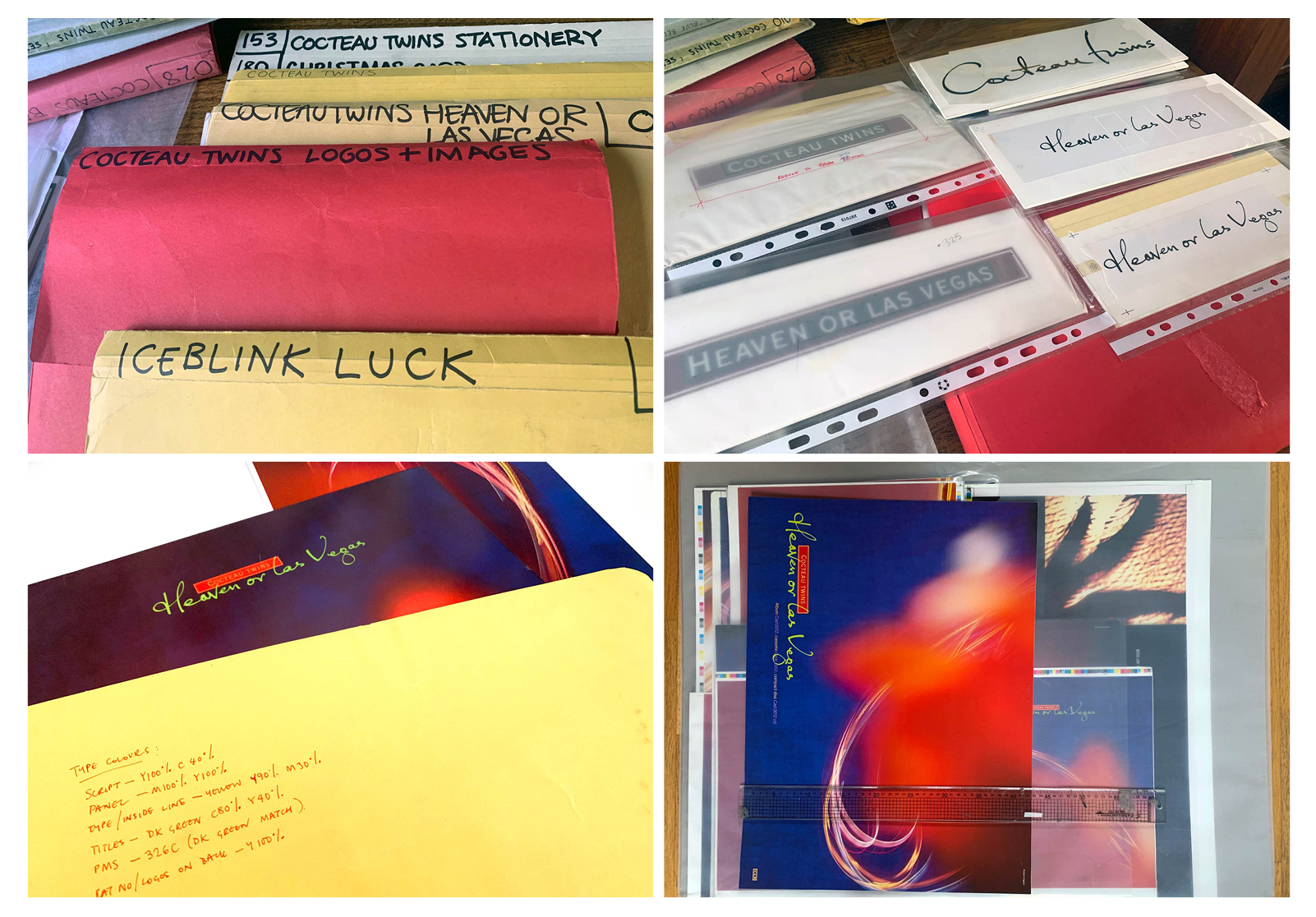 Above: Opening the original artwork files and proof bags, seeing the notes made by Paul West over thirty years ago. Photos © Paul West.
The cover imagery was created in collaboration with photographer Andy Rumball
Above left: Xeroxes from photographer Andy Rumball's transparencies and exploratory crops for the outer and inner sleeves.
Above right: Xeroxes with hand painted 'Cocteau Twins' on acetate for the band name and to indicate the album title (as 'Heaven or Las Vegas' had yet to be confirmed at this stage).
Photos © Paul West.
Multiple handwritten Cocteau Twins logo experiments. Paul would write the name many times to get the flow in the letters in order to shape of the final script. The final logo was made up of two or three different versions, cut and pasted together before a master 'PMT' bromide was made.
Photos © Paul West.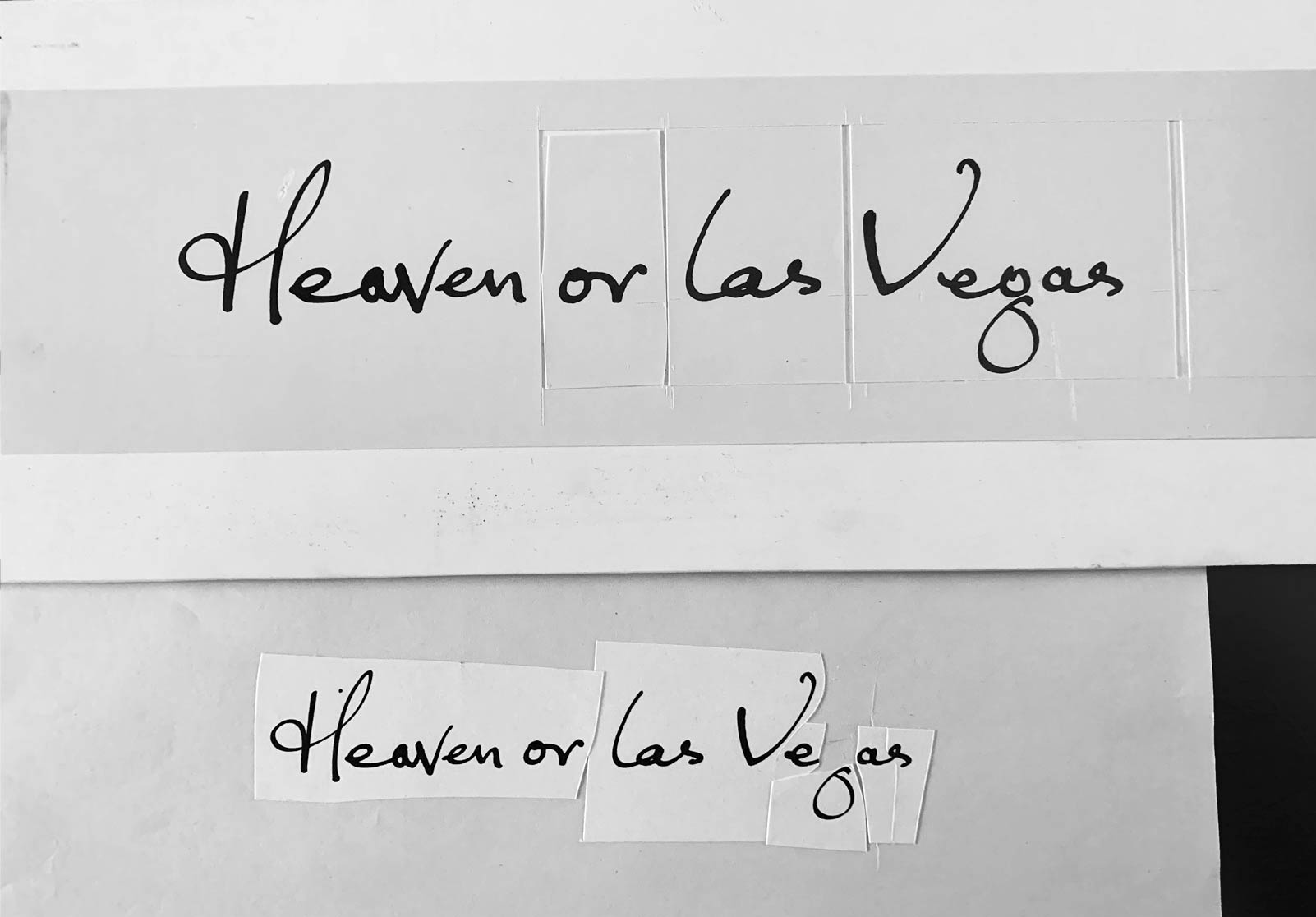 Above bottom row: The original 'Heaven or Las Vegas' hand writing (with the 'g' now missing!) created from a number of different script variations.
Above top row: PMT (Photo Mechanical Transfer or bromide) master of handwritten script logo with last minute physical letter spacing via scalpel slices and manual repositioning (long before the availability of the Mac which could now do this in a second).
Photos © Paul West.
Above: Cocteau Twins master logo showing a PMT reversal of logo bromide as negative, cut and placed onto a panel of red masking film ('Rubylith') which prints as a solid black. The logo panel and outer keyline was created by cutting and peeling the film with a sharp scalpel.
Photos © Paul West.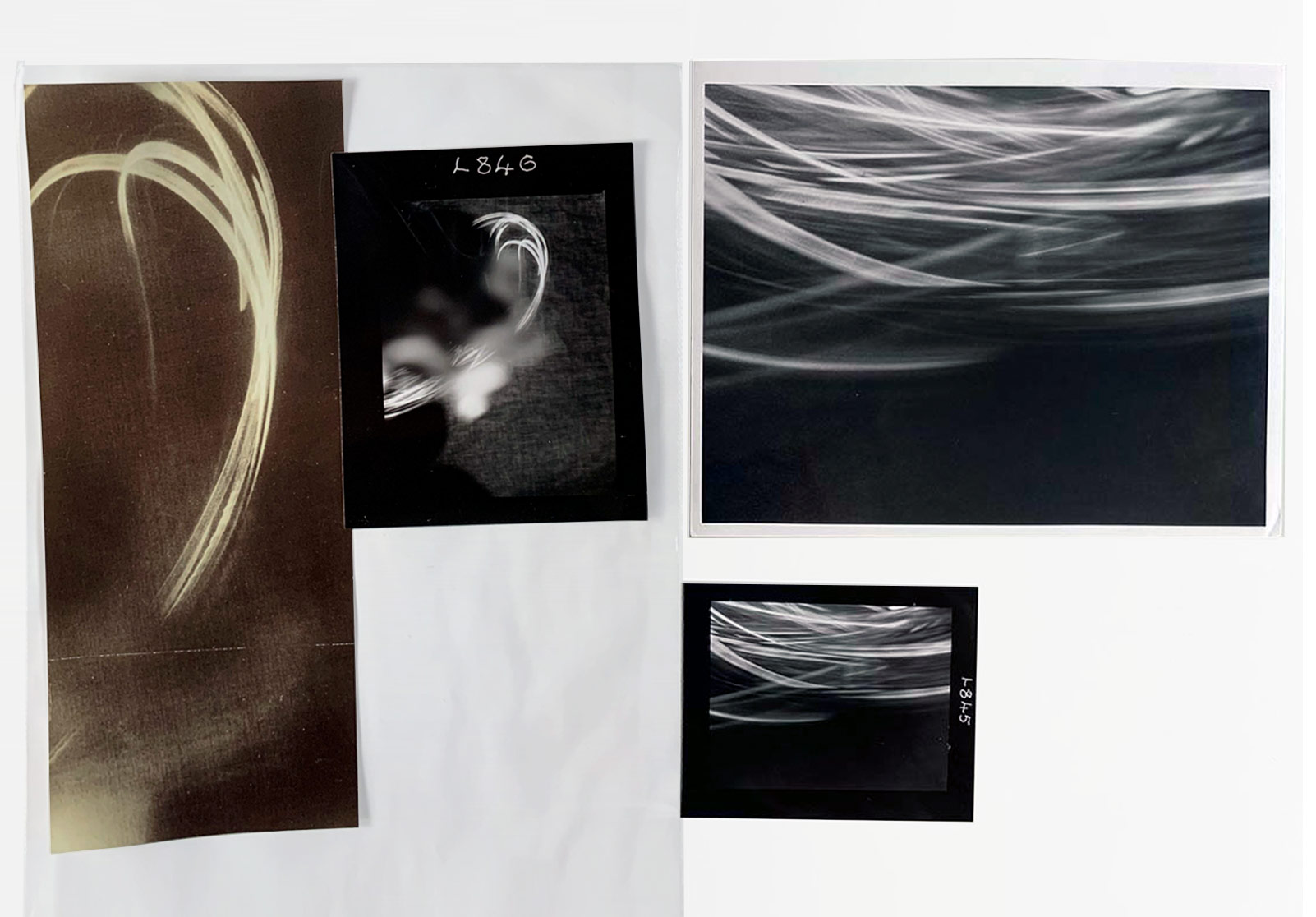 Above: PMT and 'Inter-neg' mono print reproductions from the original HoLV and Iceblink Luck colour transparencies. These would be sent with advert artwork to the mono mags (NME, Melody Maker etc). The PMT on the left is a positional guide for the cassette roll fold. See below images to show how they were used.
Photos © Paul West.
Above: All 'lick and stick' artwork for print would be sprayed or waxed, cut out and stuck to art board. Black Rotring ink indicated a keyline to print, and blue ink indicated a positional guide for the printers to ignore. Pantone or CMYK colours were marked up on the trace overlay, the PMT's would be sized and pasted as image positionals to be planned out by the record sleeve printer.
Photos © Paul West.
Above left: Inside album sleeve markup (indicating type colour / PMT image area
Above right: The running proof from the printer matching the artwork markup.
Photos © Paul West.
Above: Heaven or Las Vegas / Iceblink Luck proof running sheets from the printer. 'Running sheets' were printed in multiples to ink up the printing press correctly. These proofs gave designers the opportunity to check correct colour balance and density on press, and a chance for last minute copy checks before approving the final formats to go to print.
Photos © Paul West.
Above: Original Heaven or Las Vegas tour merchandise. Any excuse to use that 'rave' day-glo green!
Photos © Paul West.
Above: In addition to accessing the archive, Paul was asked to design a special limited edition poster for the Marc Jacobs 'Heaven' LA exhibition opening. The prospect of revisiting this artwork to create something new after over 30 years was a real thrill, involving the recreation of all original analogue assets in a digital format, using one of the original in-store posters for reference (top).
Photos © Paul West.
Above: Scanning in the original logo PMT and recreating the Cocteau Twins logo in vector.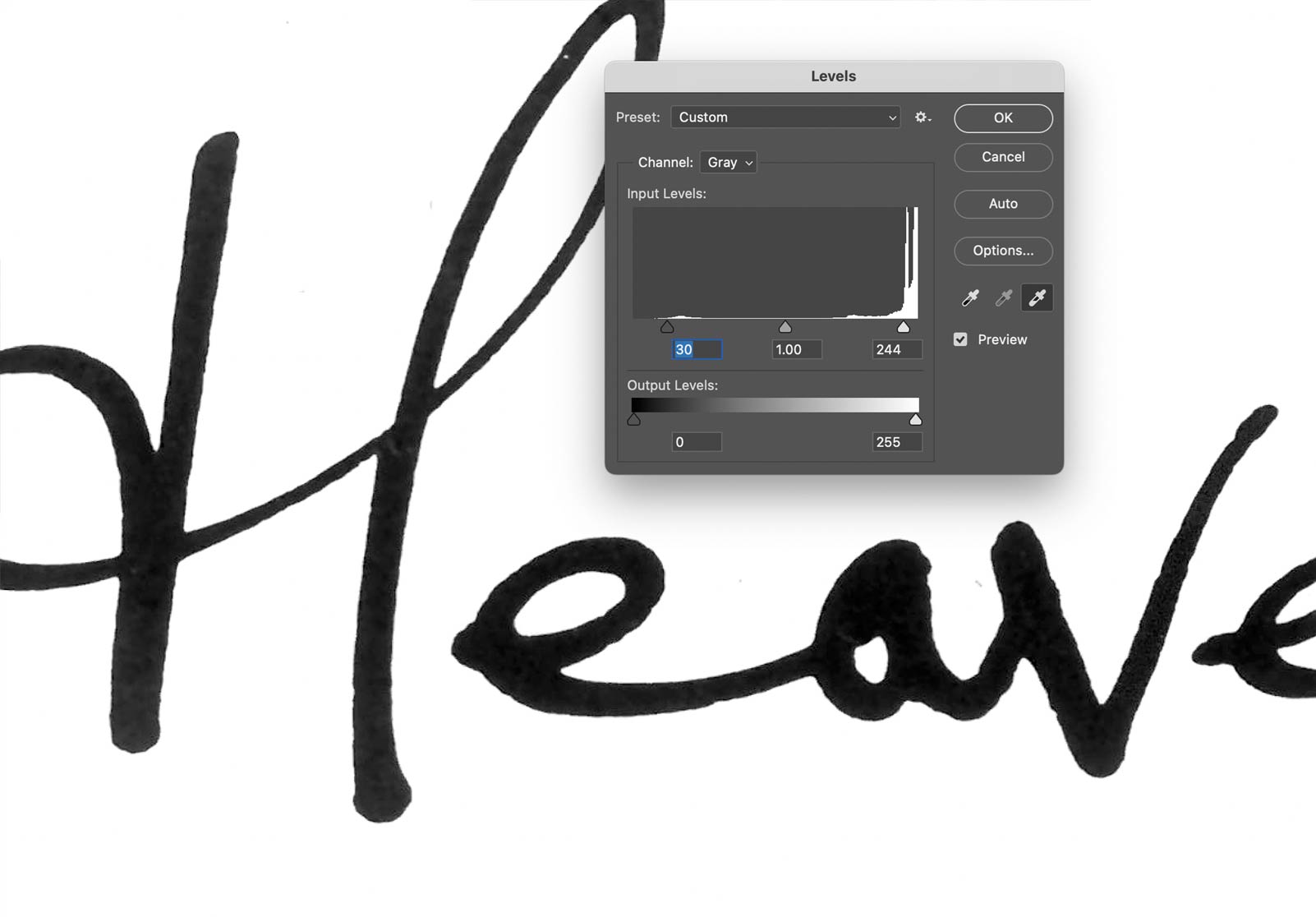 Above: High res scan of the original handwritten script, smoothing out 'jaggies' for the new poster.
Above left: The retouched image. Above right: Original scanned proof version.
Tragically the disappearance of the original album transparency of the photograph taken in collaboration with Andy Rumball meant high res scanning of an HoLV 12″ proof, creating layers in Photoshop adding blur and median filters (to knock out the CMYK noise and moiré dot patterns from the original repro) to enhance the subtleties of the orange/blue transitional fades while keeping the light arcs sharp.
Above: Combining the recreated elements for the final poster design.
Photos © Paul West.
Above: The exhibition of Paul West artworks at Heaven Fairfax, LA.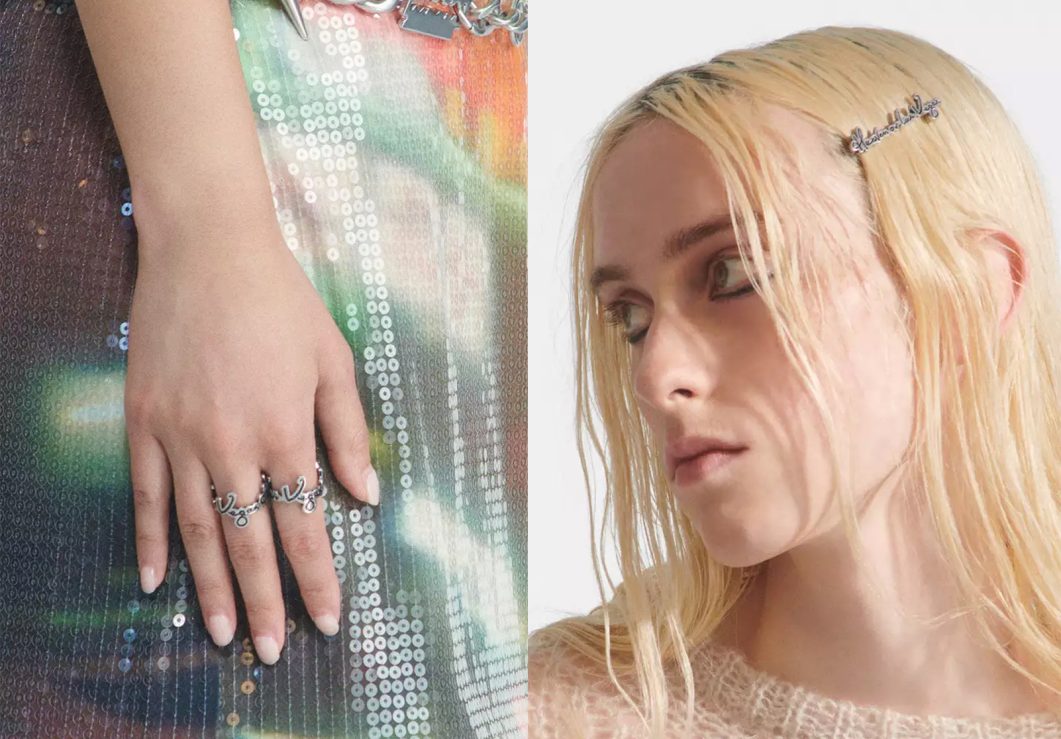 Above: A selection of the Heaven fashion range based on Paul's original artworks and Andy Rumball's images.
The capsule collection will consist of a baby tee, mesh skirt, slit top, album logo hair pin, and album logo ring.
Prices $35 – $145
Available at marcjacobs.com, Heaven Fairfax, LA, and Dover Street Market New York, Los Angeles, and London.
See more on Paul West and Form's design for music here